On the ground floor, you can find the Pharmacy Practical Training Room, the Advanced Medical Simulation Centre (including an operating theatre), part of the University Dentistry Clinic and practical training facilities for Physiotherapy students, including three gymnasiums, and electromechanics and biomechanics rooms. There are four simulation roomsfor nursing , other multi-use rooms, general university service facilities, a large conference room and a chapel. The Anatomy and Dissection Room is in the basement.
The first floor houses rooms for lectures and specialized seminars and also ten teaching laboratories. There is also a break area and group-work rooms aimed at students.
The second floor houses further rooms for lectures and specialized seminars. There are eight more general laboratories, plus two microscopy laboratories, with space for 40 students. The animal housing unit for research is also present on this floor. As with the first floor, there is a break area and group-work rooms for students.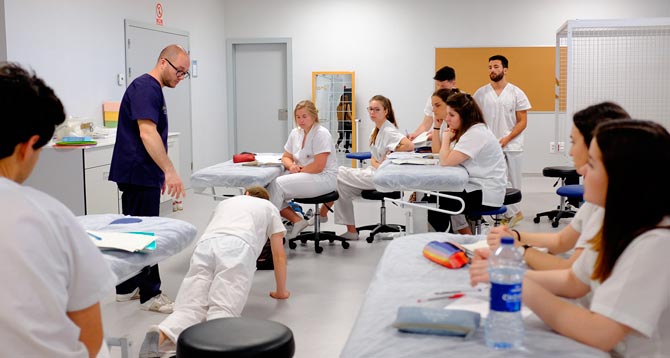 On the third floor, students can find the lecturers' offices, the Dean's Office, the Faculty Secretary's Office, and the Medical Service. This floor also boasts 13 tutorial rooms and another seven laboratories, specifically for research purposes.