Do you know what always impresses past, present and future students at the University? Our facilities. They include cutting-edge laboratories, television studios, a veterinary hospital, a stock market analysis room equipped with the latest technology, and even a dental clinic on campus. Our students have the facilities and equipment they need to receive high-quality education, right here, on campus.
Why not check out the campus first-hand and schedule an appointment with a specialized advisor, a lecturer or even a current student? In this way, you can get the inside track on what life at the University is like.
Whatever you're interested in, if you want to get more information about us or even get a taste first-hand of what CEU is all about, then there are several options available to you.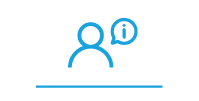 On-campus appointment + facilities visit
Fill in this form
There's no charge for a campus visit, but we need to make sure of the details so that we can ensure that we address your needs. Fill in this form and one of our advisors will get in touch with you.