On the ground floor are the Pharmaceutical Practice Classroom, the Advanced Medical Simulation Center (which includes an operating room), part of the University Dental Clinic, as well as Physiotherapy practice spaces such as 3 gyms, an electromechanical room, and a biomechanics room. In this same floor there are 4 polyvalent simulation rooms for nursing and several polyvalent classrooms, as well as general service spaces. On the same ground floor there is a conference room and a chapel. Moreover, the Anatomy and Dissection Room is located in the basement floor.
On the first floor there are classrooms for master classes and for the development of specialized seminars. Also on the first floor there are 10 teaching laboratories. As spaces for students to share experiences the first floor also contains an open area of cafeteria and rooms for teamwork.
The second floor completes the classrooms for teaching and spaces for specialized seminars of the building. In addition, we find another 8 laboratories that are complemented by 2 additional microscopy laboratories with 40 work stations each. In this plant is also located the space for animal research. As in the first floor there is an open cafeteria area for students and rooms for teamwork.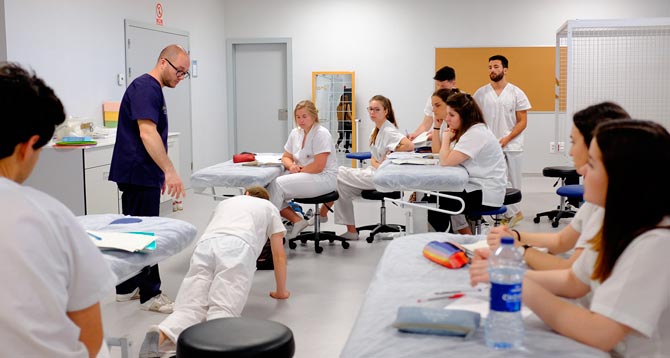 The third floor of the building is dedicated to the offices of the professors, the Dean's Office and the general services for students, among them the Secretariat of administrative support and the medical service. The 13 rooms for tutoring and personalized follow-up of students stand out in this plant, as well as other 7 laboratories, in this case for the exclusive use of research.