A new digital society
The latest technological advances are affecting the way we live, work and even relate to those around us. New phenomena such as the internet, big data, artificial intelligence and blockchain are bringing a paradigm shift to every industry and profession that none of us can afford to ignore.
We live in an increasingly digital society. Our constant contact with new technologies brings with it new demands that the legal profession must meet.
An opportunity for professional specialization
Technological change is swift and relentless: cherished traditions quickly become obsolete and the winners in this new landscape will be those who adapt first and best. The legal profession is no exception in this regard. The fact is that the regulation of this technology will need its own specific legal framework.
How will professionals themselves make use of these technological advances? What are they doing already? Those legal professionals who are able to recognize the uses to which these technologies can be put will be ahead of the game and stand out from the rest. Many roles that will be key in the future haven't even been invented yet, so adaptability is going to be an ever more essential skill.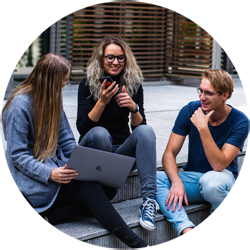 Legal Tech Lab: A place where you can prepare for the future
The purpose of Legal Tech Lab is for our students to be able to study how the work of legal professionals is changing and what the relationship is between the law and technology. It's a gateway to a world of new professional opportunities and social progress.
This innovative project from CEU UCH, Legal Tech Lab, seeks to achieve the following objectives:
To raise awareness of the potential of legal technology and the way it can be used in everyday professional practice.
To provide critical information regarding the appropriate use of the new techniques and resources available to legal professionals.
To create a venue at which students can obtain academic and practical information regarding the legal dimension of this digital revolution at a national and international level.
At Legal Tech Lab, you'll be able to familiarize yourself with the terms, techniques and resources that are now an integral part of the working environment of legal professionals. The need for such familiarity will only increase over the next few years, as technology responds in turn to the technology-driven changes in society.
Being fully acquainted with new technology is essential for today's legal professional and it is also an opportunity to professionals to redirect their careers.